Taking The Proud Highway
The system cannot cope with chaos. Randomness and Disorder are anathema to a structure based on predictability. Art, in its multiplicity of forms lies at the centre of a paradox when forced to consider it's true role in society. Economic markets flourish in times of dull predictability and things move in a general forward direction with very little question. When the system encounters problems, pressure builds within the engine of progress and things begin to go awry. Whilst art, like everything else, needs a successful economic system within which it can operate, it is during the times of chaos and randomness that it truly flourishes. It would be wrong to assume that the idea of the artist starving in a garret is a noble or desirable one, for this picture is yet another indication as to how flawed our society is. However the creative gains to be won by those who can ride it out are immeasurable next to the standards as laid out by others. Entropy is another instalment in an on-going series of events that look at strengthening connections between artists, organisations and their audiences. In a break with previous modes of operation this event takes place in one venue, Eiger Studios in Beeston, and looks at a very specific area of artistic practice; those whose work moves back and forth across the borders between disciplines. For this event we bring together members of an academic art world and the self taught, the virtuoso and the naïve, the visual artists, the musicians and the performers that all contribute so much to the cultural life of Leeds, the UK and the rest of the world. For without these people the world would be on a straight path to nothing. As the energy builds within the system so too does a creeping inertia, an inertia that makes this energy useless for conversion into mechanical work, able to grease the cogs of society's corporate machine. For the artist this is the paradox, work to survive, work to create or create work to survive. To conclude I will leave you with a quote from Hunter S Thompson and the thought that life is there for the taking.
'So we shall let the reader answer this question for himself: who is the happier man, he who has braved the storm of life and lived, or he who has stayed securely on shore and merely existed?' Hunter S Thompson
DWF | Entropy
On Saturday 24th May Eiger Studios in Beeston became home to another installment of the Divided We Fall (DWF) series of events. This event had originally been scheduled to take place on the last day of the DWF event in March 2013 but due to a vicious snowstorm the event was postponed . . . until now! Unlike previous DWF ventures this one was hinged on a central premise, that of entropy which also provided the day with its additional title. Defined in the dictionary as being the unavailability of energy for work within a system, a build-up of randomness and disorder leading to chaos and inertia, this event looked at how, if at all, this definition could relate to the world of art specifically and culture more generally.
Although the day is cold and it is raining heavily there is no snow and finally, after a whole year longer than originally intended, we open the doors on a very focused day of specially commissioned projects. In a departure from the usual DWF modus operandi, artists were selected for a particular quality, that being a multidisciplinary approach to the creation of artworks. Over the course of the next twelve hours more than twenty artists engage in the areas of visual art, performance, new media and music presented works addressing, in their own highly individual ways, the subject of entropy. A structure was created in so much as each artist, group was given a slot of 30 – 45 minutes in length and a running order was established long in advance. The distinctions between what could be understood as live art, visual art and music were blurred from the very outset with much of the wall based work a product of artists also present as performers. The work of Brian Gilson is a case in point straying as it does between the fields of performance, new media and visual art with his real time electronic manipulations. All of these categories with which we reference the various works are transient, meaning dissolves from one thing to another with alarming regularity as we are forced to consider what it is that we are actually being asked to define. A prolific output is one of the main characteristics that define each artist involved with Entropy. A quick scan of the Facebook pages for Karen Constance and Alisia Casper, to pick two random examples, show a remarkable dedication to their respective art forms. Elsewhere websites and CV's overflow with content that is testimony to the prolific nature of those involved. Whilst the theme of entropy is addressed in the work that is presented throughout the day, it would be wrong to consider that this is an isolated occurrence driven by the need to fit a brief; in fact Saturday 24th May is something of a punctuation mark, a gap in the free flow of output that is temporarily plugged and the pressure is allowed to build. Here performance follows performance follows performance, there is no chance to rest, only to be taken from one scenario to another, a systematic derangement of the senses.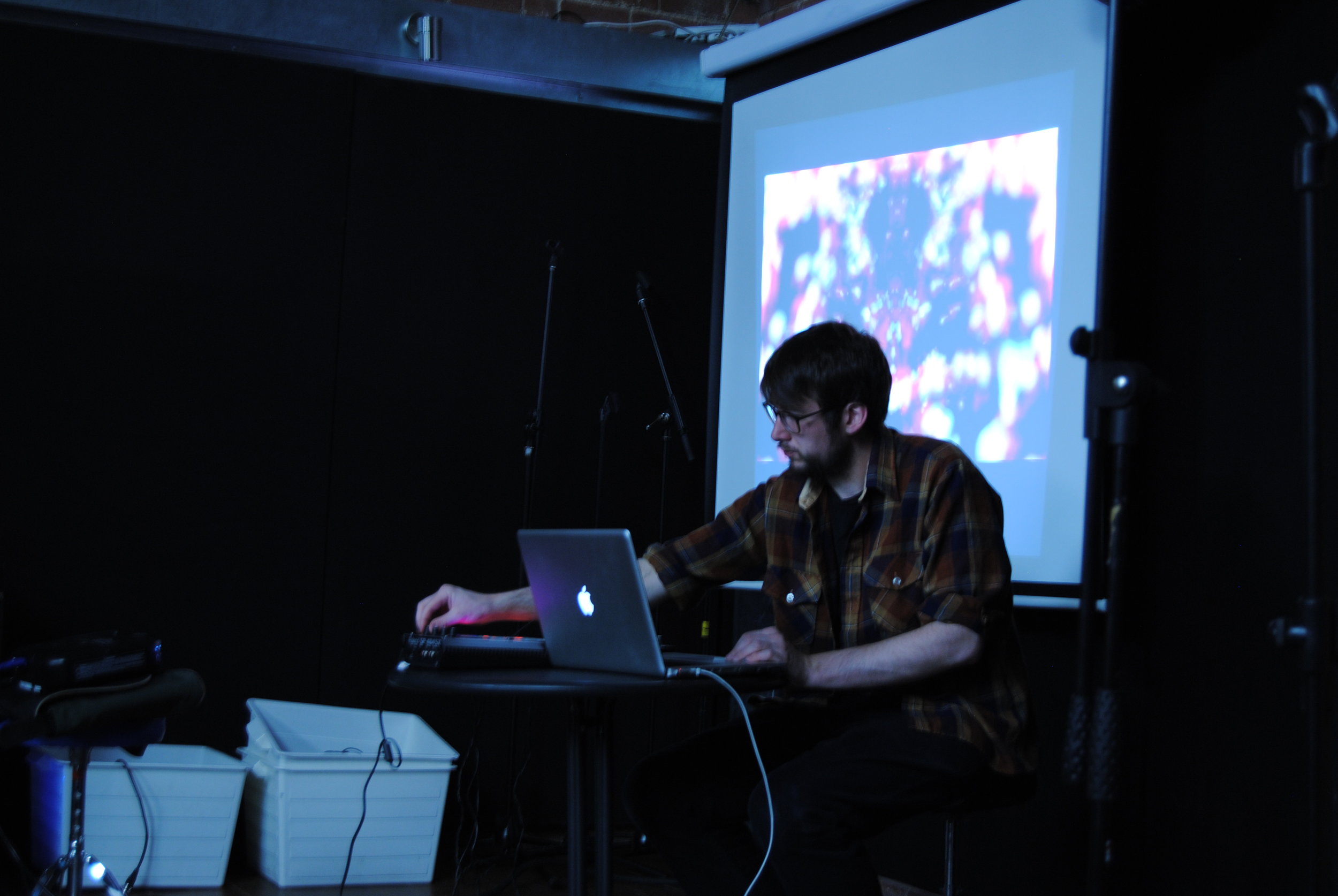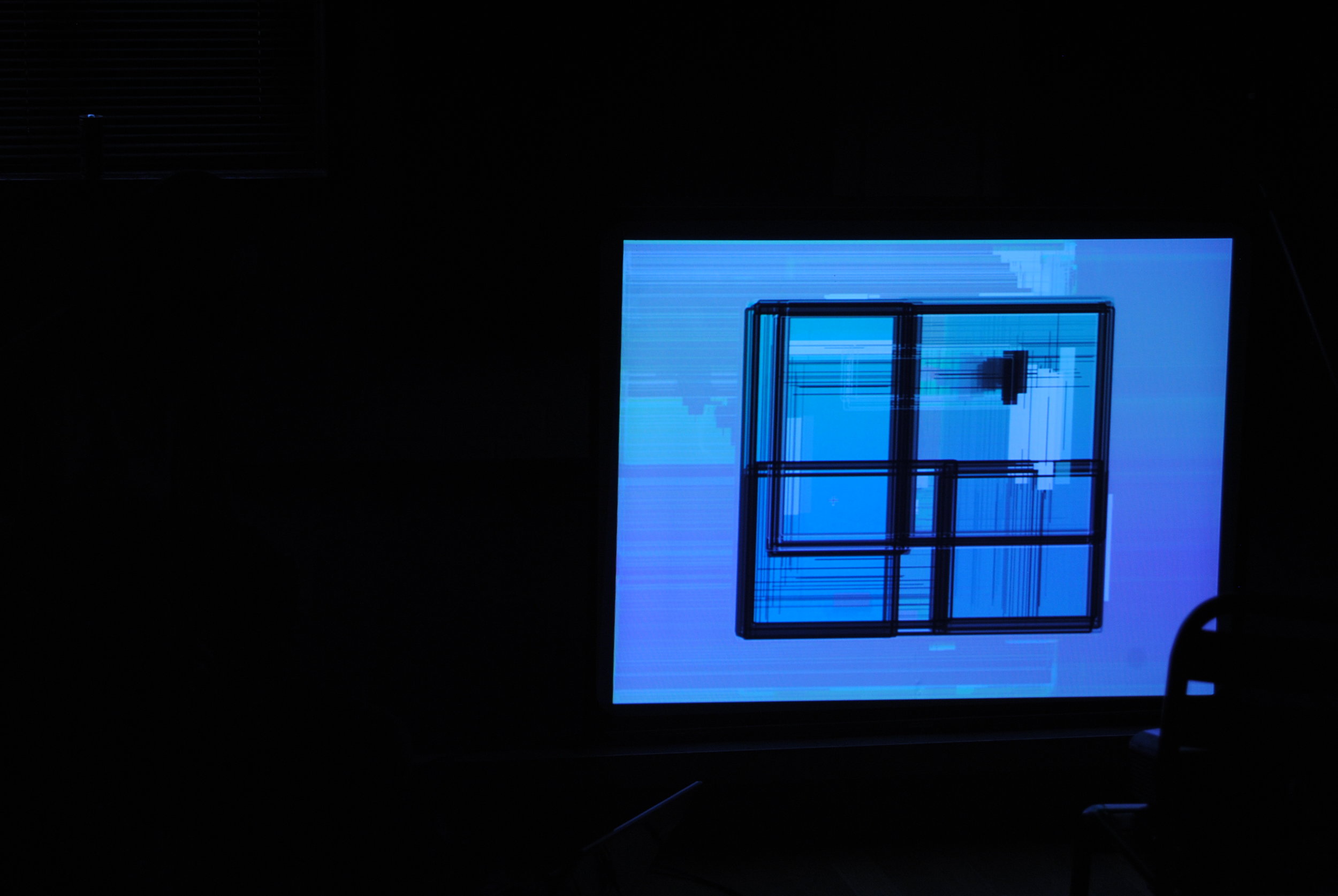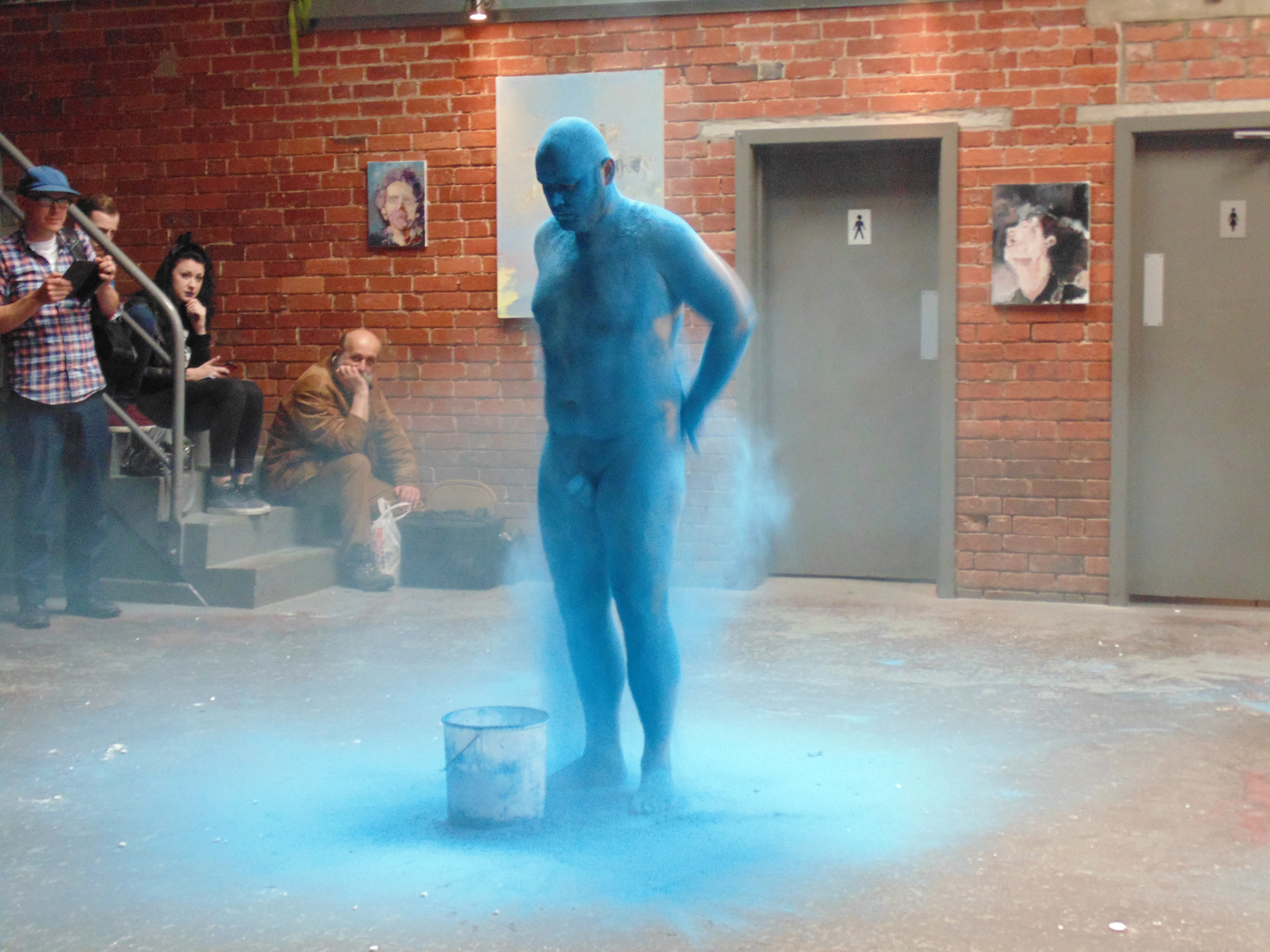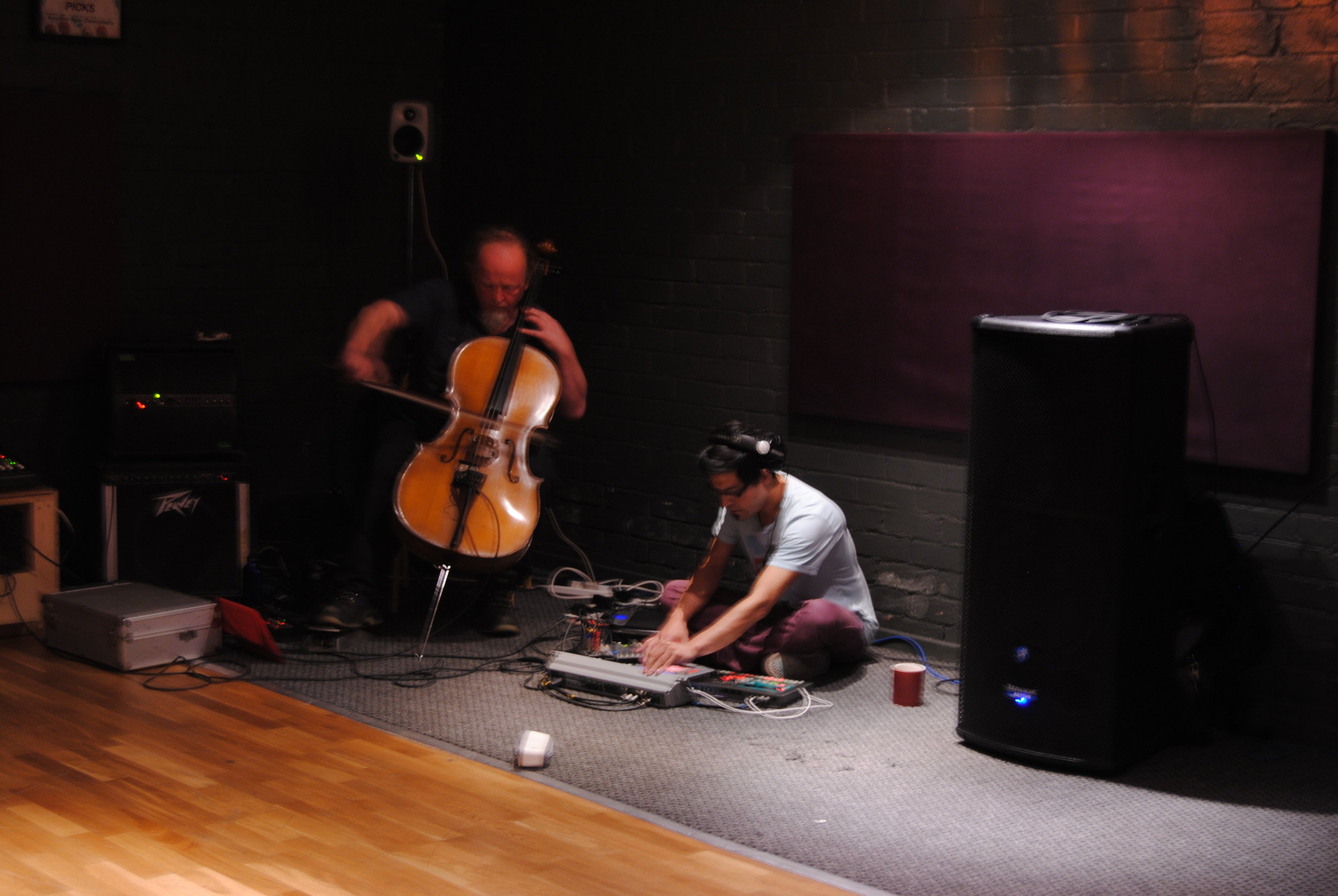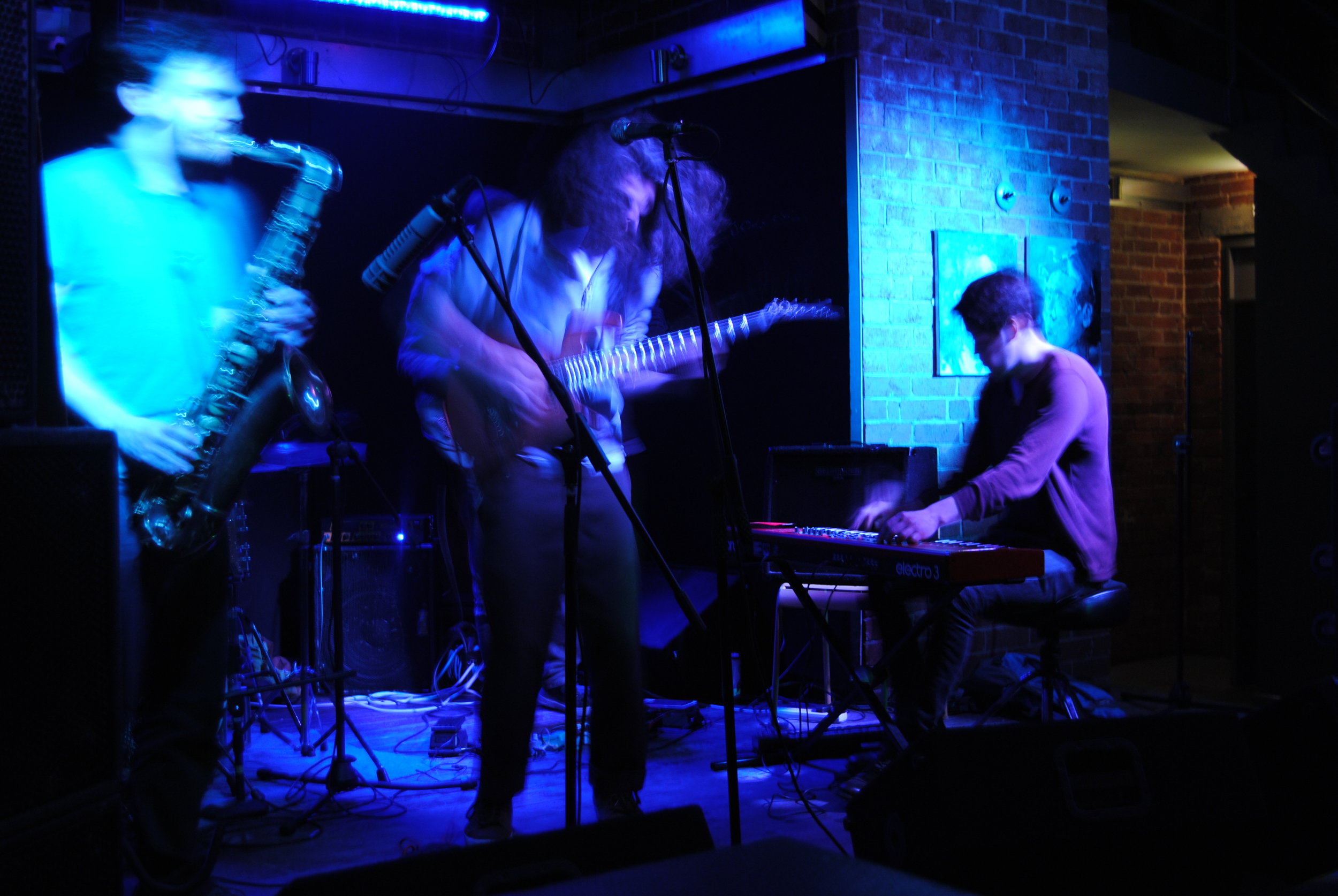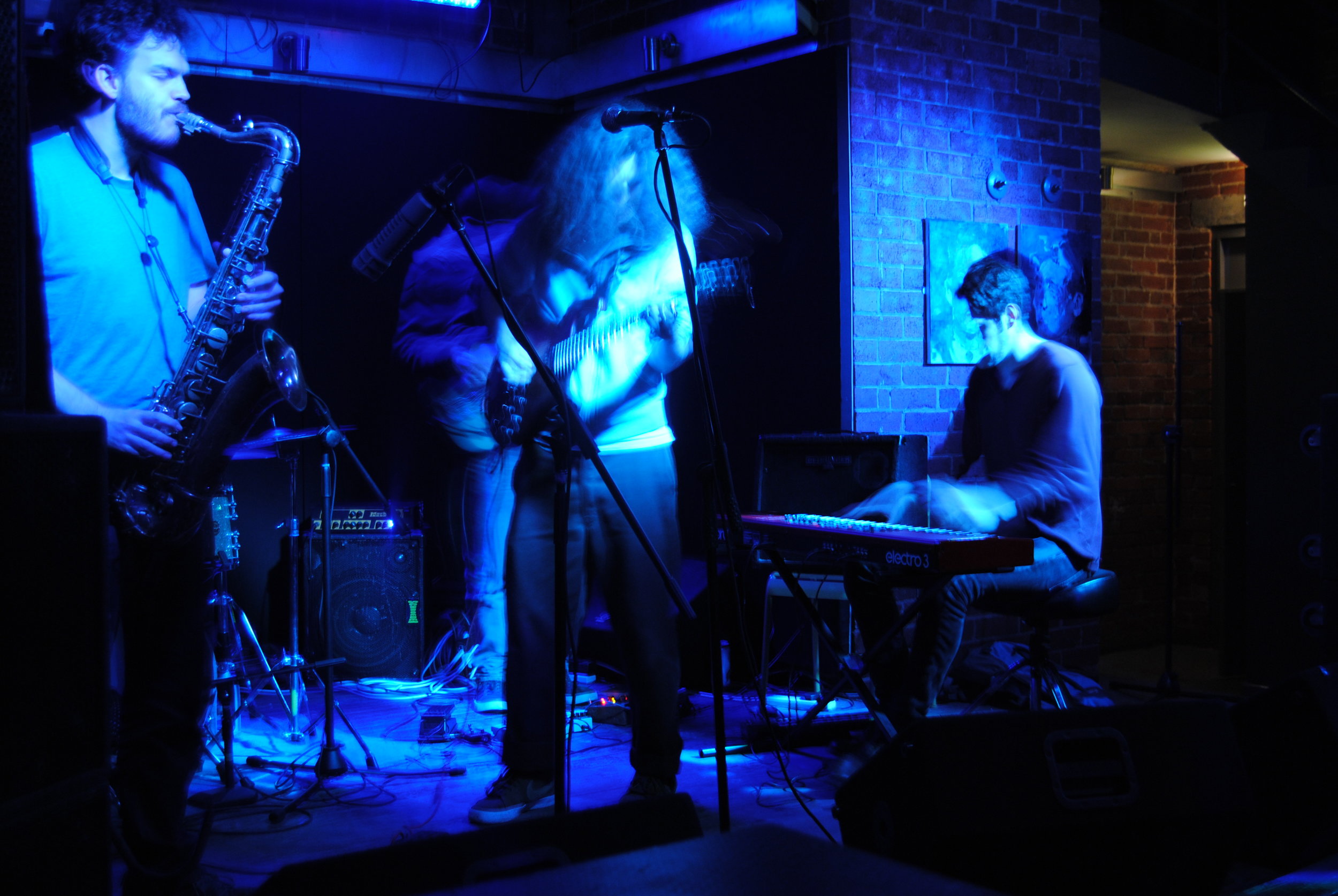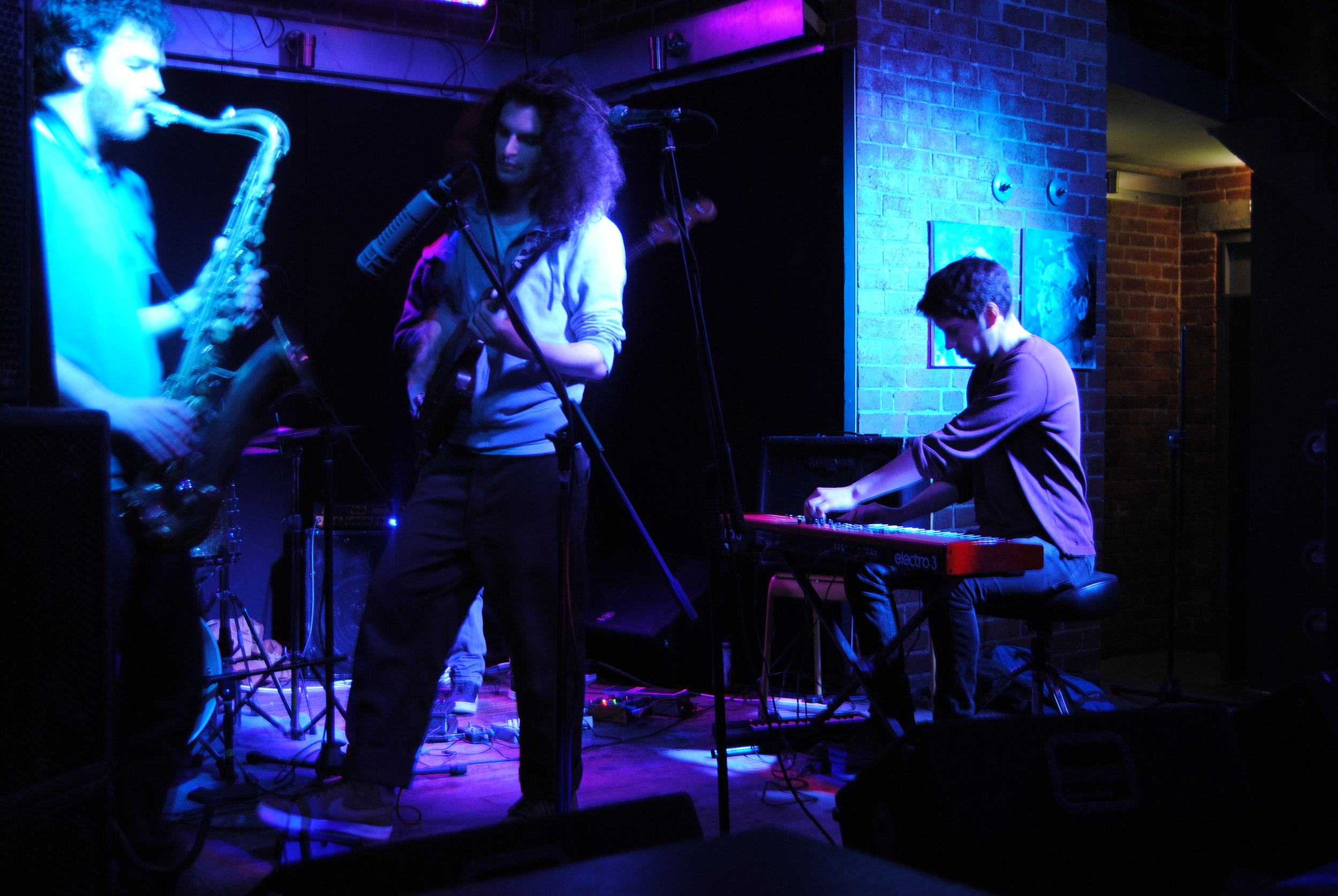 Dylan Nyoukis and Karen Constance employ something of a Cagean aspect to their performance as Blood Stereo, daughter Elkka is drafted in to control the flow of random noise into their set with a vary-speed Dictaphone, a set of dice and a box of numbered cassette tapes. The slow burn of work by the curator of the live art strand Sohail Khan is at odds with the mania of Adam Young, naked, doused from head to toe in blue pigment and engaged in an act of flagellation. Alisia Casper performs a quiet acoustic set, solo, accompanied only by the strum of her guitar, in a room populated by a selection of her artworks. As afternoon merges into early evening the sets seem to take on a more introspective tone with sets by Herb Diamante, Cank and Joe Gilmore. Whilst Diamante's twisted take on the cabaret genre allows a dark sense of humour in via the back door, Joe Gilmore manages to make a visual spectacle by removing all of the visual elements from his set and performing in complete darkness. This seemed to chime with the work of Cank whose cello and electronic combinations evoke the architecture of urban life, a continuous thread that runs through much of the work of cellist / sound artist Simon Bradley. After the glacially paced soundscapes of Gilmore and Cank Helipcopter Quartet seem to quicken the pace as the evening wears on. Eventually an adrenalin fuelled set by Shatner's Bassoon takes us into the final stage of the day's enquiries. What does happen when all of these, apparently, disparate energy sources are captured and set to work in a closed system, no extra space, no way out, input only? In any example in which all exits are sealed off the end result can only mean destruction or complete collapse, the violent conclusion to an information overload. The final set of the day was given over to forty five minutes of spontaneous improv in which members of Shatner's Bassoon, Dominic Deane and Helicopter Quartet created a new piece music completely on the hoof and having never met before until a few hours ago. The end result, if one can ever truly say that about improvised music, is one of total abandonment with large doses of humour sprinkled through a set that is as energetic as it is off the cuff. Immediately the inclusion of violin, electronics and second drummer give extra propulsion to the proceedings and set it apart from anything that has gone before. Here we see the extended techniques of these musicians being poured into a musical dialogue, in which the languages are mixed yet everybody understands one another completely. Through various peaks and troughs, surges and runs the energy from this frantic glossolalia finds its natural peak, a crescendo is reached and as quickly as it arrived it is gone. Utilising the entropic analogies that have been in play since the inception of this project this moment could be considered the point at which inertia is reached, and indeed the only way this can end is for the power to be turned off. What about chaos and randomness though . . .? The Entropy Ensemble shines a light on another type of outcome. Here sounds, energies, styles and systems coalesce, chance input is moderated and filtered through the combined knowledge of all of those involved, and from the continuous potential for dissolution we are accorded harmony from something that only human beings can create . . . a truly intelligent system. It matters not that this may well be the only occasion that these individuals play together as one unit on the same stage and that this performance could never be re-created live again. The system is in place, energy can be turned on and off and all parts are not just interchangeable but interconnected, so until next time . . .
Bruce Davies | May 2014
This event was made possible with the generous contribution of Arts Council England